Subscribe to this blog here. I love twitter, follow me @TropicalMBA.
Hey there!
If you don't already know, I am obsessed with analyzing all of my posessions. If you ask me why I decided to purchase and use a Nike Dri-fit baseball cap, I will tell you why. Worse still: I will think this is interesting.
Here is the evidence:
Birds of a feather flock together, and the TMBA guys are no different. We talk gear often.
Dave Huss (TMBA III) is a particularly savvy equipment guy. I wanted him to share his kit because it's really well thought out. (His style is more Tynan-esque than my stuff).
In particular, his choice of backpack seems to have some advantages over my trusty North Face Surge pack (although it sure as hell doesn't have the war stories… yet).
Speaking of Dave…. HE KICKS ASS IN ADWORDS.
He says he cut our cost per conversion from $80 to $20.
I don't even know what that means.
All I know is he took one of my shitty sites and made it turn 10K in a month. That got my attention.
If you need help with Adwords, check out his Adwords consulting.
DON'T KICK HIS TIRES FOR FREE. He's a busy guy.
Ok… I'll turn it over to Dave…
* * *
Dan and the other Tropical MBA guys have been bugging me to write this post ever since I landed in Bali. They think I went a little bit overboard with gear. They think I am some cross between a boy scout and James Bond.
When you are limited to just a backpack and laptop bag for several months, you have to care a lot about the gear you bring with you.
I was inspired by Tynan's gear posts and Dan's gear post to put a lot of time and research into choosing the right gear for my Tropical MBA adventure.
Deuter Futura 28 Liter Backpack

The organization system on the Deuter Futura is incredibly smart and convenient. The bag has one large compartment which can be divided in to two. It features an integrated rain cover in the bottom of the bag. There are two side mesh pockets useful for water bottles as well as a flat front pocket which is useful for maps or tickets.
The best part about this bag is the ventilation suspension system that keeps the bag a few inches off your back to allow for airflow – which is great in Southeast Asia to reduce sweatyness. I know Dan loves his Northface Surge, but the Deuter Futura 28 is the next level.
Invisible Shoes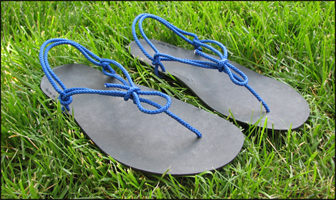 These "Invisible Shoes" are the closest you are going to get to barefoot. I prefer them to regular shoes. They simply 4mm thick Vibram rubber sole material tied with some rope. You can build your own shoes, called huaraches, by following the directions on the site.
These sandals dry in like an hour and rarely need cleaning. The downside: keeping them tied properly can be annoying.
North Face Paramount Peak Convertible Pants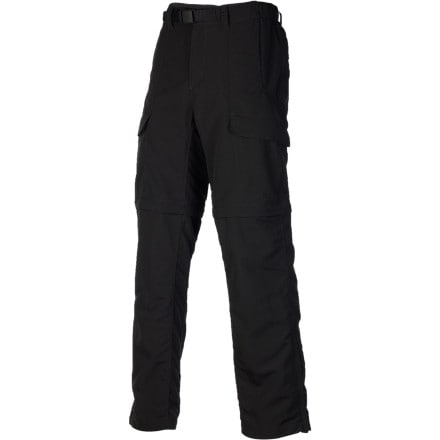 These pants are awesome. The bottom half can be zipped off to convert into shorts. They look decent enough as shorts to wear out to bars. Go with grey or black for color. These pants wick away sweat, don't hold odor, and dry super fast. They have lots of easily accessible pockets and have a built in belt.
I have been traveling with them as my only pair of pants and not had any issues. I wore them for a month straight without washing and it was only after doing manual labor volunteer work in the Philippines for a week that they finally started to smell and need a wash.
ExOfficio Shirts and Underwear
I love ExOfficio gear for travel because they are quick-drying, moisture-wicking, and odor-resistant. There will be times that you have to wear the same clothes more than one day in a row, and ExOfficio clothes really help reduce the gross-out factor.

ExOfficio T-shirts
are quite comfortable and I prefer black for shirts because they don't show dirt/stains as easily. I would go with the regular t-shirt over the v-neck.

ExOfficio Give-N-Go boxers
are the best underwear I've worn yet. I disagree with Dan about liking the boxer briefs – they feel too restricting for me.
For my TMBA adventure I brought these ExOffico clothes with me:
1 black Tshirt, 1 grey Tshirt, 1 black Vneck
2 pairs of boxers, 1 pair of boxer-briefs
Once I go home I want to add 1 more set of underwear and shirts to get 4 total changes of clothes. Having to do laundry every day can be a real pain, so the extra set of clothes is worth the space.
Acer Laptop Bag


I bought a 15″ Acer laptop bag from Chinatown in Singapore for $35 US. This bag is smartly organized and my favorite part is the zip pouch in the front which is the perfect size for a Kindle. This bag feels too big though. Once I get a smaller laptop I will be downsizing my laptop bag also.
Laptop
My current laptop is a 2 year old 15.4" Asus which weighs over 6lbs. It works fine but it's just way too big and heavy to travel with. As soon as I get enough money I am going to upgrade to the ultra-light (3lbs) new Macbook Air 13.3"

This thing is the ultimate travel mouse. I hate touchpads and a regular mouse is too bulky. Enter the Arc Touch wireless mouse which can "snap" flat to store in your bag and then "snap" into a curve to turn the mouse on. It uses a tiny usb wireless receiver and runs on 2 AAA batteries for almost 2 months of daily use before needing replacing. Kudos to Microsoft for making this futuristic device.
Whether it is a snoring roomate, motorcycles driving outside, or airplane engines – these noise isolating headphones are worth their weight in gold. The sound quality is great and they came with lots of different rubber ear pieces, so I found a small ear piece that fit me comfortably. I use them mostly for trying to sleep.
Pro tip – If you are looking for great music to relax you, then check out Ulrich Schnauss for amazing ambient music. His first album Far Away Trains Passing By has been drifting me to sleep for the past 3 years.
iPhone 3GS


I don't use it as a phone but it is still really useful while travelling for taking notes, checking email, snapping pictures, and GPS. I have been happy using the iPhone as my only camera because there is not that extra barrier of having to remember to take a standalone camera.
My favorite apps are CityMaps2Go for Offline GPS Maps which has kept me from getting lost many times, and ProHDR for great pictures.
Cheap GSM phone – Nokia 1200


I use this for calling and texting because my iPhone is not unlocked. No problem if you lose it while out adventuring– a new one only costs $25.
The call quality is mediocre but I do like the easy to press number buttons. Everyone texts a lot in Asia so I wish I could use my iPhone or a phone with a full keyboard to be more efficient with texting.
Sleeping Mask


You should have a sleeping mask to improve sleep quality on planes, hotel rooms, or rooms where where the curtains suck. I had the Tynan recommended 40 Blinks sleepmask which was great, but then I left it on a bus in Manila. I bought a new one at a Manila department store and it works fine.
Shamwow Towel


It works great as small, quick-drying, easily packable towel. It's super absorbent – I can completely dry myself off after a shower. Some people skip on a towel in their gear because hotels have them, but I have found the Shamwow useful enough times to keep it. I don't care if that crazy Shamwow sales guy on TV went to jail, I still like the Shamwow for traveling.
The Klean Kanteen is made with stainless steel and doesn't have the harmful chemicals like BPA that plastic bottles have. It is easy to clean and also has vacuum insulated lining to keep drinks hot or cold for hours. I got the largest one 20oz because I drink lots of water.
Overall thoughts:
Even though taking only one day pack and laptop bag seems like packing light for a lot of people, my future gear changes will definitely be towards taking less stuff and reducing weight. 4 months into my Tropical MBA adventure I have figured out what is truly useful for me. There is a lot of gear I can improve or remove.
* * *
Thanks for that Dave!
My thoughts on this kit:
The Deuter Futura 28 is more comfortable than my Surge due to the suspension system that keeps it off of your back. That's really cool. It also seems less durable, but that's probably just me being jealous. It does not hold as much stuff, methinks.
Having one of those funky shami towels is worth the effort.
Huss does not have a dry bag. He needs one.
Those invisible shoes don't look cool. I don't understand the benefits of walking barefoot over having sandals. I also saw Huss stopping to re-tie these things a lot. So… up to you. I'd stick with the Crocs.
Klean Canteen is cool. I'm always rocking throw-away water bottles, which isn't good for you… apparently.
Oh yeah, Dave is really awesome at Adwords.
As is per the usual– your comments and geeky feedback appreciated.
Dan
PS, if you liked this blog post, you can get on my mailing list to hear directly from me.